What Fio Smartbanking can do
---
With the mobile app, you can perform almost all operations as in classic Internet banking. And even a little extra, such as scanning QR codes, account numbers or deposit slips. What's more, we're constantly updating Smartbanking and adding new features. Take a look at a summary of the most important things it offers.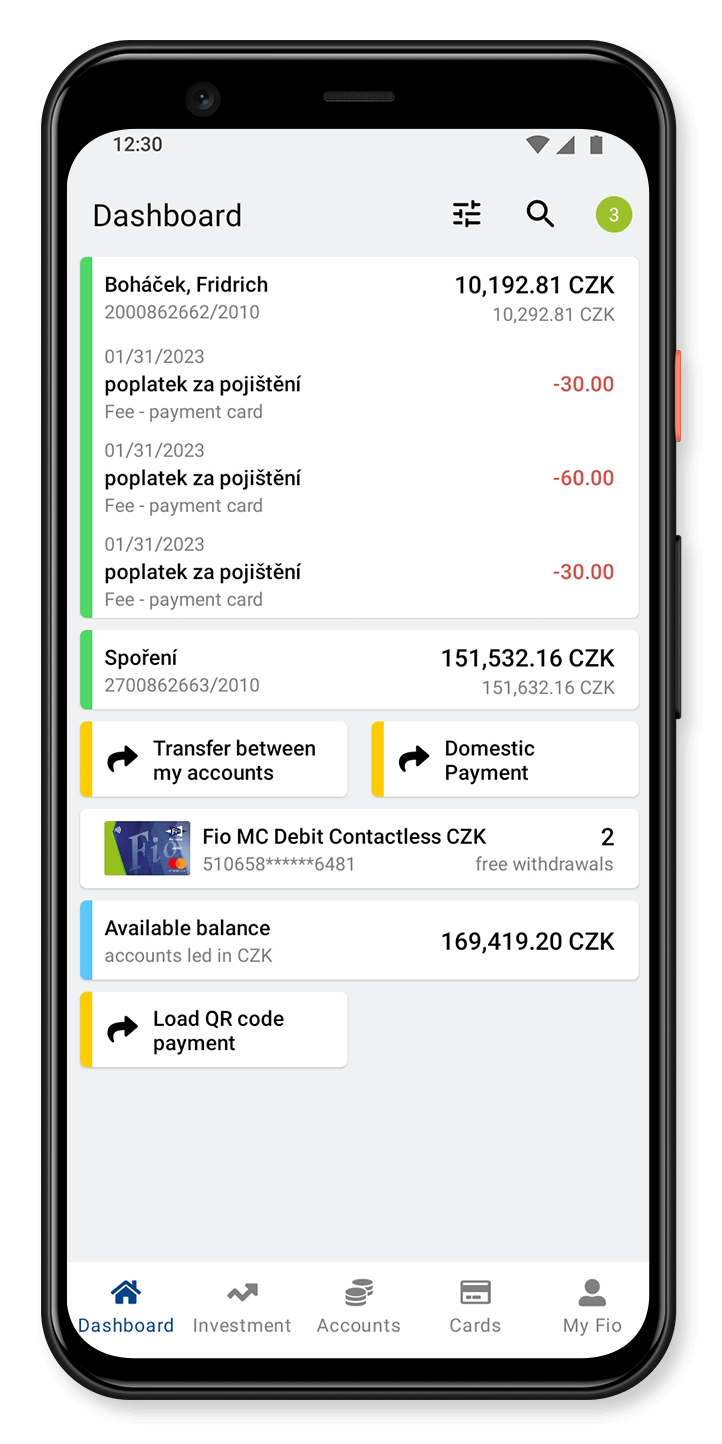 FOUR APP MODES
You can use the app to its full potential, or choose passive mode when you activate it to get started, where you can see balances, account movements and other reports. A new feature is the authorization mode, which is used exclusively to quickly confirm transactions. A combination of passive and authorization mode is also available.
PERFECT OVERVIEW
You have the ability to customize your home screen to see the most used reports and features at a glance - add accounts, cards or buttons to quickly enter payments (Dashboard, under the slider icon on the top right next to the magnifying glass).
Accounts can even be sorted or color coded (in the Accounts section, again under the slider icon). You can also have notifications of account movements sent directly to your phone (My Fio > Notifications).
FAST PAYMENTS
In the Pay section you can pay by taking a picture of the QR code, retrieving a receipt, account number or image from the gallery. Or simply by phone number (payment to contact). You also create QR codes with Pay Me, manage templates and even standing orders. You can easily and securely confirm online card payments and orders entered in Internetbanking on your mobile.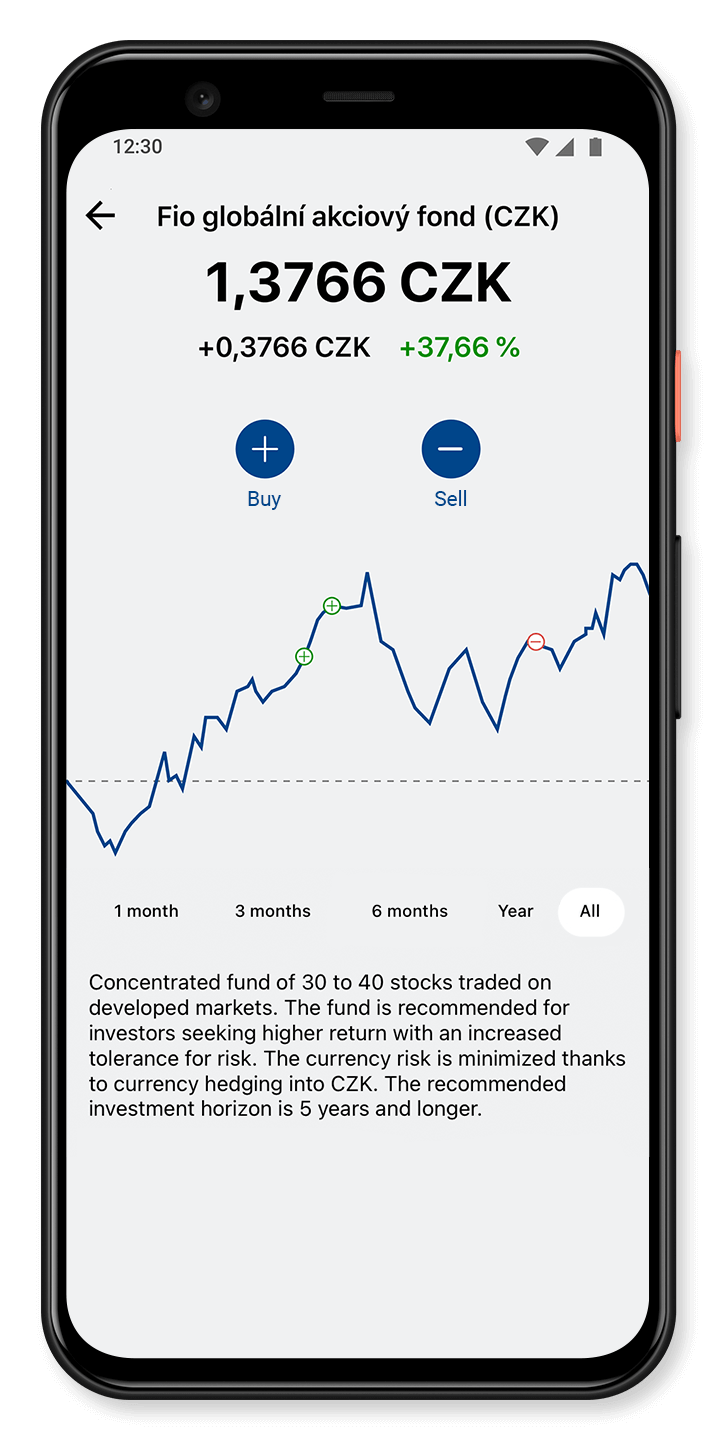 CARD CONTROL
The app allows you to change card limits at any time or arrange insurance for your card (Cards > Settings). You can also block your card temporarily or permanently and block selected types of transactions, e.g. those with unfavourable exchange rates (DCC) or additional withdrawal fees from the ATM operator (Cards > Security).
If you want to pay by mobile, simply add your card to Google Pay or Apple Pay.
INVESTMENT
In the Investment section you will find a range of Fio mutual funds, so you can invest in a few clicks. You can follow the development of your investments in a clear graph showing your purchases or sales.
NEW PRODUCTS AND MORE
You can easily communicate with the bank (Fio servis - the envelope symbol on the top right of the Dashboard), arrange a new account, as well as a savings account, loan or card. Or invest with a few clicks (see below). You can choose to secure the app with a PIN, fingerprint or a glance at the display.
The app can also use dark mode (My Fio > Settings > Application appearance). It will direct you to the nearest branch or ATM (My Fio > Branches and ATMs). And, of course, much more.


TIP: The latest features and where to look for them
Payments per contact: you send money with just the knowledge of the phone number.
Faster QR payments: It is now possible to load a QR payment directly via the system sharing menu (e.g. in Photos).
Personal data: You can now change your personal data in My Fio just like in Internet Banking.
Push notification detail: Improved push notifications - click to go straight to the payment or message detail.
Authorised call: You can call us via the app (My Fio > Contacts) and we will be able to inform you about your account or payments.
---
DOWNLOAD HERE:
---